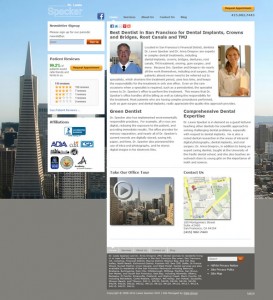 Dr Specker needed a fresh modern look for his website that had served him for years and was a bit tired. An associate doctor recently joined the practice and needed a presence and voice on the site.  He also wanted to integrate his appointment scheduling system and automate the display of patient reviews that are being collected through his DemandForce service. This will save him and his staff time and money.
Well, WE always do what the doctor ordered and we delivered! Dr Specker now has an updated, crisp and friendly site that puts his patients reviews and the ability to schedule an appointment front and center. His associate doctor and his staff have their own page to showcase their respective talents and the office is featured with a visual tour. We added his credibility badges, prominently featuring his dynamically updated Better Business Bureau rating, and are making it easier for the patients to prepare for their visit by serving up forms online and answering questions about accepted insurance plans.
We also added custom post types for services the office provides, added a blog to give a voice to the doctors outside of their immediate patient work, and created a new facebook page. Now the office can update their service offerings as their practice evolves and keep in better contact with their patients and fans.