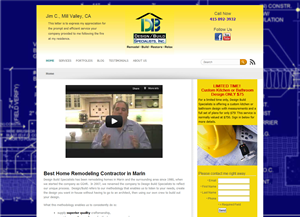 In early 2012, Design Build Specialists' CEO Mark Labourdette approached Data Group to discuss rebuilding their website.
Their existing website hadn't been touched in several years, and traffic to the site had slowed to a trickle.  In addition, the site had old information on it that needed updating, but working with the existing structure was very time-consuming.
In just under four weeks, Data Group created and launched a 125+ page WordPress site with custom features that show off their portfolio properties and extensive testimonials, plus added a full lead-generation and email newsletter system, and all areas are fully accessible to company personnel to update any content or send email newletters.
In addition, Data Group created a custom-branded YouTube channel and added 23 videos that had previously been in several different locations on YouTube and their previous website.